Because of their many practical and aesthetic benefits, islands have become expected features in nearly every medium and large-sized kitchen. Including a kitchen island into your design is one of the best ways to optimize flow and provide extra storage and prep space.
Today, let's talk about the upgrades that will help you maximize your island usage in your Atlanta, home remodel.
Make Room for Seating
There are generally two categories of upgrades: practical and aesthetic. Happily, seating falls within both. Your kitchen is where you enjoy an invigorating cup of coffee before work, where your kids congregate for an after-school snack and homework, and where you chat with friends while crafting cocktails and appetizers. Because your kitchen is as much used for living as it is for working, it's important to include some seating, and the best way to do this is with barstools welcomingly nestled under an island overhang.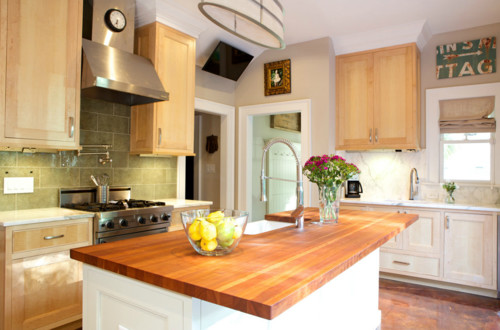 Add a Prep Sink or Hide Appliances
If you're an avid chef and enjoy entertaining, you'll want to incorporate a prep sink into your island. Be sure to leave ample counter space on either side for dishes and food, and consider purchasing a sink with a clever cutting board insertion to make your sink do double duty.
The inner side of your island is also the perfect place to hide appliances like microwaves and small beverage refrigerators that every kitchen needs but that you may not want to have visible.
[Read More: Kitchen Sink Ideas for Your Atlanta Home]
Insert Outlets
In today's home designs, having outlets, and lots of outlets, is essential. Whether you need to plug in a KitchenAid mixer or just charge your cell, it's handy to plug in where you are instead of rearranging your work space. Because outlets aren't known to enhance aesthetics, however, we recommend hiding them under countertop lips and color-matching them either to your countertop or cabinetry depending on where they're inserted. This allows both a sleek finish and unencumbered functionality.
Dress it Up
Enhance your kitchen island design visually by adding cabinetry paneling, bead board, columns/furniture legs, or decorative corbels that complement your own interior design scheme. Your island is naturally set apart from the rest of your kitchen, so it's a great place to playfully introduce a pop of color in your cabinetry or incorporate statement materials like reclaimed wood. Pay special attention to drawer and door pulls as well, as these details have the power to unite your design scheme and exude confidence.
Prioritize the Basics
Finally, it may not seem like it, but one of the best ways to upgrade your island is by attending to the basics by picking high-quality cabinetry and a durable countertop material. This Old House offers a detailed guide on the hallmarks of good cabinet construction, but in general, look for thick, solid wood and mortise-and-tenon joinery. Then, choose a countertop material that is beautiful, durable, and easy to care for. Popular choices include granite and quartz. Be sure to view our gallery for inspiration on how to implement each of these five upgrades!