Last week, we guided you through a tour of our elegant bathroom that won gold for the OBIE Award category of "Best Bathroom Over $25k." We submitted two bathroom renovation projects for this category, and our second submission won silver. (Our silver winner is the second, all black-and-white bathroom with miniature floor tiling.) Join us for a tour of this masterful arts & crafts-style bathroom remodel.
(The OBIE Awards program began in 1980 and is presented by the Sales and Marketing Council division of the AHBA, the Atlanta Home Builder's Association, Inc. Its 100 plus categories are designed to recognize outstanding accomplishments in home remodeling, new home building, marketing, and personal achievements. We're honored to be recognized as award winners on this list and to be featured in the OBIE award booklet.)
Inside Our Silver-Winner, Over $25k Bathroom
The first thing you'll notice about this historically stylized bathroom remodel is its strict black and white color scheme. Yet the presentation is far from monotone. The arts and crafts movement was born out of a distaste for architecture and décor that was becoming increasingly industrial, impersonal, and excessively ornate. It emphasized simple and well-made construction that understood the merits of individual materials and the needs of their users.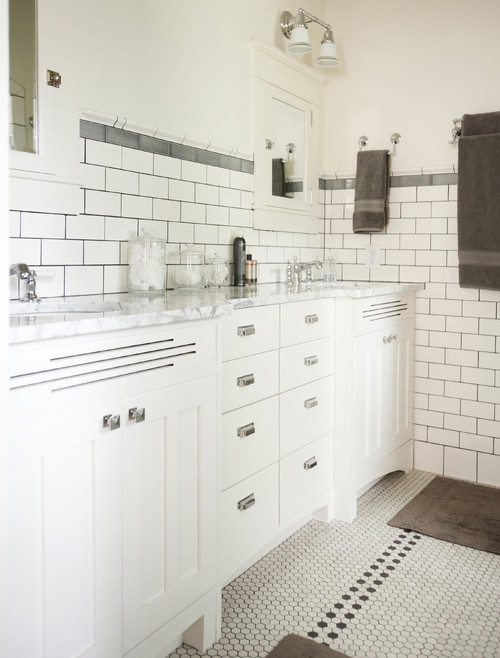 This is the guiding spirit we instilled in this bathroom renovation—no design is excessive, yet every design is tastefully constructed. Notice, for example, the small hexagonal flooring tiles. Separately, they are humble, yet when carefully arranged together, with black grouting to underscore their individuality, they compose a mosaic-like masterpiece.
Our attention to incorporating details appropriate to the era extends to every element of the remodel, including the custom cabinetry with its grooves, panels, and vintage, bin-pull hardware. The mirrored medicine cabinets above the sink are set inside thick trim work and fastened with vintage latches. Even the faucets, with their separate hot and cold handles, imitate period fixtures.
The shower includes a built-in nook with individual tile work set inside. Again in honor of the arts and crafts movement, a custom-made, frosted, stain-glass window with a simple and elegantly-executed design introduces natural light. The only modern element in the bathroom—the frameless glass shower door—is unobtrusively incorporated to enhance rather than detract from these period pieces. The overall result is a tightly unified, award-winning bathroom remodel that highlights the best features of its historic, Atlanta, GA, home.