Our fourth 2017 OBIE award winner is our whole home renovation in Decatur. This submission took gold for the "Whole House Remodel Under $250k" category.
[Read about our other OBIE awards here]
The OBIE Awards program, which is sponsored by the Atlanta Home Builder's Association, exists to distinguish excellent home building, home remodeling, and marketing and personal achievements, and we are honored to claim a place in its award booklet under multiple categories.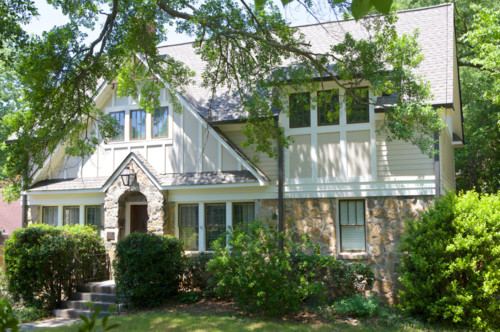 The Kitchen
In this home remodel, the beauty is in the essentials. We welcomed in natural light through multiple windows and emphasized its presence through the clean whiteness of the cabinetry, full-wall subway tiles, and tall trim and baseboards.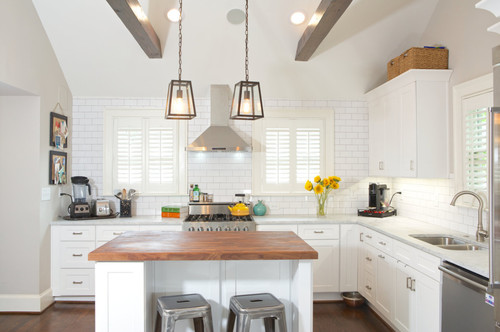 For contrast, we refurbished the dark, hardwood floors and incorporated them thematically through a butcher block island countertop and exposed ceiling beams. We accentuated the kitchen's clean, symmetrical design through the unique, dual pendant lights that hang above the island.
The Stairway and Private Upstairs Sitting Room
This same dark wood and clean white combination we carried through the entire home. Notice the carefully-finished banisters, railings, and trim work. Most of the hardwood we refinished. We added the sliding barn door at the top of the stairs leading into the private sitting room as a rustic tie-in. In the upstairs sitting room, we created a warm and peaceful environment that is well-illumined by a broad, three-paneled window.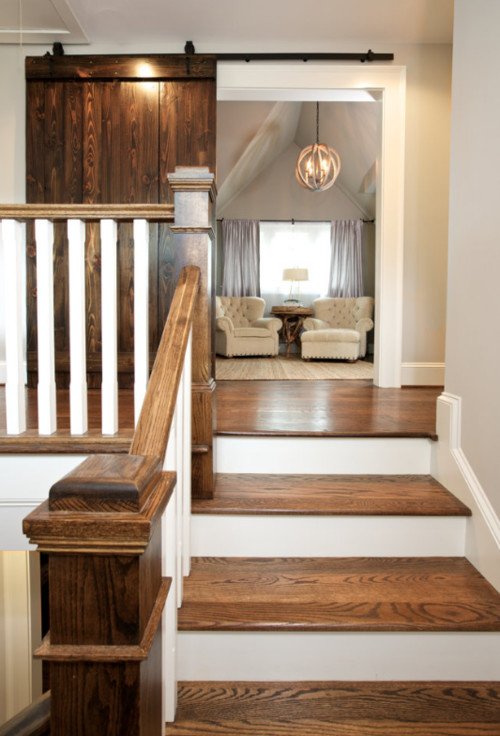 The Upstairs Bathroom
The upstairs bathroom again exemplifies the same principles of cleanliness, order, and elegant simplicity found throughout the home. The space is visually and spatially free from clutter. The light gray and white, whole-wall tiling and large floor tiling presents a gorgeous, cohesive, and uninterrupted finish.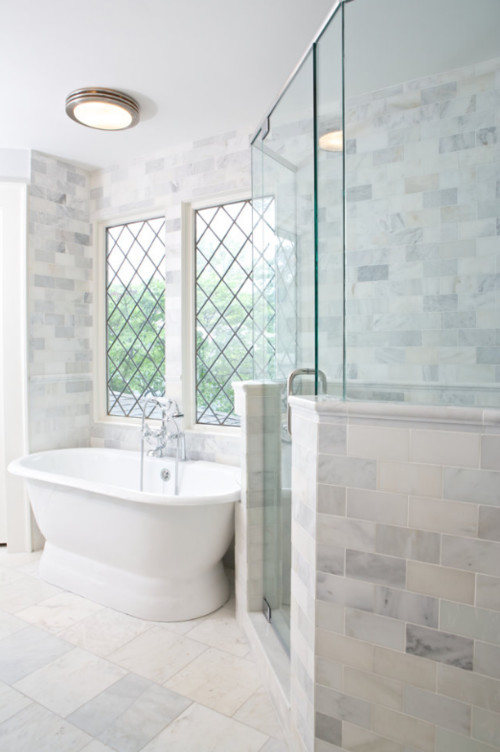 The diagonally-mullioned windows introduce plenty of light, which is granted clear passage throughout the entire room via an open floor plan and glass shower doors. The claw-foot tub balances the modernity of the walk-in shower with its comely design.