Our fifth 2017 OBIE award winner claimed silver for the "Best Whole House Remodel under $250k" category.
We'd like to thank the Sales and Marketing Council division of the Atlanta Home Builder's Association, Inc., for sponsoring
these awards
since 1980 to recognize fine home craftsmanship in the greater Atlanta, GA, area. You may view their full award booklet, which includes our other winning projects,
here
.
The Porch Entryway
In this contemporary remodel of a historic Midtown home, we left no area untouched, including the outdoors. To add curb appeal, we embellished the porch entryway with bungalow-style, clean-cut railings and posts. To make the porch itself more inviting, we added a custom-built porch swing that's more sofa than bench with a fan and outdoor lighting above to increase comfort.
The Kitchen
Though simple, this kitchen is a masterpiece of design. Along one wall of the kitchen, almost all lines are harmoniously horizontal. From the lower kitchen cabinetry with its bar-pull hardware to the long stretches of open shelving and long backsplash tiling, nearly every line exists in concord. Along an adjacent wall, we find juxtaposed vertical lines of continuously upper and lower cabinetry, a tall range hood, undulating tiles, and a narrow, contemporary light fixture.
Yet small, unifying details such as the long bar on the oven, the cross-sectioned glass panes, and a pair of six-over one, double-hung windows that emphasize the verticality of their black mullions keep the adjacent walls' directional designs from competing. Both work together in the type of perfect harmony you'd expect in a Japanese painting to creating a relaxing, modern vibe. In the background, we installed unique, black-mullioned French doors that are a present-day echo of the windows' historic design.
The Wine Cellar
This wine cellar could be any woodworker's magnum opus of precision. Each compartment is incredibly detailed and exactly fashioned. Within this personal wine vault, each safety-deposit box cradles a palatable treasure. In the center stands a classy, custom-built cabinet with a gold-toned countertop to match the gold-toned flooring and gold labels above each wine shelf.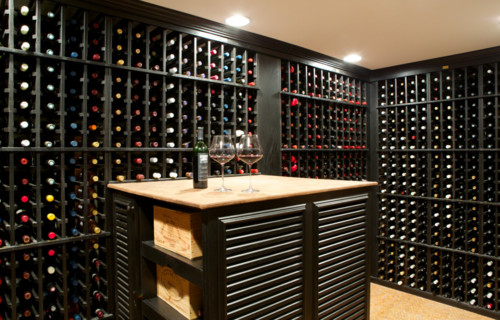 The room is a sommelier's dream. Altogether, it exemplifies what we at Copper Sky Renovations pride ourselves in: our unfailing attention to perfect craftsmanship in the details that cohere to form a perfect whole.