Most newly remodeled homes look great when they're completed. But keeping your home looking fantastic for years down the road takes some planning—and occasionally a bit of elbow grease. A lot of the planning takes the form of choosing the right materials to use in your remodeling project. Let's take a look at designing your home for easy cleaning and upkeep.
Cleaning and Maintenance Can Restore Glorious Character
Many of the homes we remodel are historic homes with a lot of character built into them. Sometimes that character is hidden behind years of use and a patina of time and dirt. Maintenance is particularly important in older homes where historic features are a big part of the home's appeal.
You may need to restore some of these finishes to their original glory. That means you'll want to work with a professional who knows how to handle these items with the care they deserve—and even has the skills to craft new features that complement the existing, historical features of your home. Here are some examples of what that can look like.
Materials Matter
Your kitchen is one room where you'll want to pay close attention to cleaning and upkeep. Preparing meals can be messy. It just goes with the territory. So while you want features that look great and reflect your personal sense of style, you'll also want to make sure you install surfaces that will stand up to the need to be cleaned regularly. A good design/build remodeler can help you select the right materials for the kind of use your kitchen will face. That applies to the countertops you choose and the flooring you install.
Some natural stone surfaces look great but can stain or scratch if they're not properly sealed, treated, and cleaned. That's true of the sink you choose as well. There are a lot of great styles (take a look here for some examples) that can make your kitchen look like a million dollars, but selecting the right material to go along with that style is critical.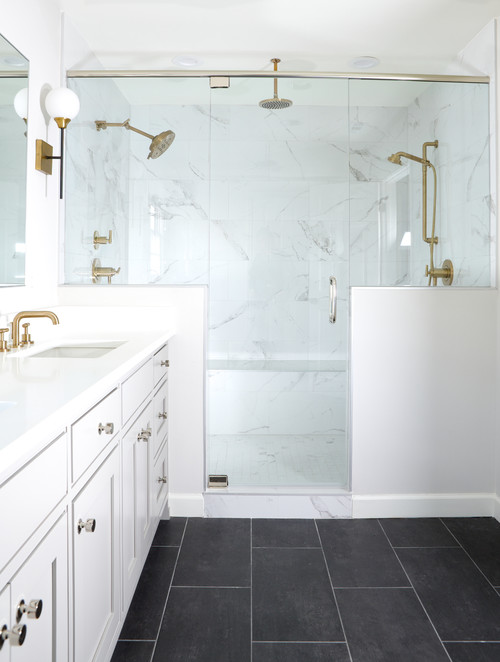 Your master bathroom is another area where choosing the right materials is important. Natural stone tile work is very popular for bathrooms these days. But not all stone tiles are suitable for bathroom use—regardless of how good they look. For instance, marble is a marvelous-looking material. But marble can have a high iron content that can discolor (rust) in a humid or damp environment. And because it' porous, it's subject to stain.
That can be mitigated with regular (yearly) sealing, but you might want to choose something that doesn't require that. Terracotta tile is a nice, warm-looking material that is often great for bathroom floors (it's not as cold as some other surfaces). It is, however, somewhat porous so it's not a good choice for shower walls.
Flooring for Heavy Use Areas
If you're adding (or remodeling) a mudroom in your Atlanta home, choosing the right flooring material is a big deal—simply because it's an area you can expect to clean often. The experts at flooringprofessionals.com cite ceramic tile as perhaps the best choice for mudroom floors because that material is durable and non-porous. That makes it easier to clean and maintain. They also list natural stone as a good surface. It's a bit more expensive, but the unique patterns and natural beauty may be worth it to you.
Maintenance Matters Outside As Well
Perhaps you're considering an exterior renovation such as a patio or a deck. The same principles apply here. You'll want to use materials that look great with the rest of your home's features, but you'll also want to select materials that are durable and relatively easy to maintain.
Once again, working with a knowledgeable remodeling professional can help you make the right choices—and avoid mistakes that can cost you time, money, and effort down the road.