Last month, we spent some time discussing what makes a quality custom cabinet that will last, and a couple weeks ago, we talked about how to plan your kitchen for maximum storage. We went over the best materials, construction, hardware, and cabinet types to select for your new kitchen remodeling project.
Within those suggested guidelines, however, you'll find there's still great freedom to select a look that best reflects your taste and your home's overall style. Today, let's go over a few different presentation options you can consider incorporating into your kitchen renovation.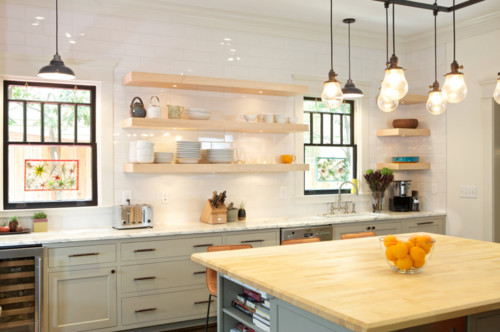 Cabinet Faces
The first decision you'll make establishes the overall tone of your space: what style do you want for your cabinet face? Do you want the classy and traditional shaker door, the slightly sleeker flat door, or the ultra-modern inset door?
Each style has its place. Some home owners even combine two or more door types, but if you opt to do the same, do so carefully. You'll want to select one style to use predominantly as the design basis for the rest of the room and only use secondary or tertiary types sparingly and in appropriately designated areas.
Cabinet Types
Now that you've selected your favorite cabinet face, it's time to consider the types of cabinets you will install. While doors and drawers are the most traditionally utilized options, remember that you don't have to stick strictly to them.
Add interest and user efficiency by incorporating slide-out shelves, roll-up and pull-up panels, and any other ingenious hardware devices. Consider complementing these higher-tech options with more minimalistic selections like glass cabinets and open shelving units where you can display elegant glass and table ware.
Palette Potentials
With the rising popularity of minimalistic and transitional styles, many home owners have gravitated toward simple palettes composed of neutral colors, relying on textures to introduce interest. This look is as popular as it is because it is truly beautiful, but don't forget to entertain other options.
The kitchen to the right, for example, plays with all three primary colors and makes them work together by using a pure white as the base color for the cabinets and walls and a neutral brown for the floor. Play around with paints and stains until you find a look you like.
Making it Match
Remember, you don't have to choose only one style or color. Be adventurous by mixing your playful palette with multiple materials like wood, steel, tile, brick, etc. As you explore new options, however, do be sure that they work in a united scheme both within the kitchen itself and within your house as a whole.
For an adventuresome yet coordinated design, keep in mind that the match is often made marvelous by finding the right finishes like door handles and knobs. So do make sure you like your larger pieces like your cabinets since they will set your overall tone, but pay special attention to the finishes you select for your kitchen remodeling project in Atlanta, GA.