Today, we'd like to take a trip back in time to one of our early Atlanta, GA, remodels: we invite you to explore our stunning 2011 Morris Landers home remodel. The beauty of this remodel lies in the unexpected creativity of its design as much as in the precision and elegance of its execution.
Screened-In Porch
Perhaps the most immediately attractive feature of this Atlanta remodel is its spacious, screened-in porch. The screened porch ceiling was made from reclaimed wainscoting, taken from the original house, built in the 1960's. We removed the dated wainscoting, refinished it, then installed the porch ceiling you see below.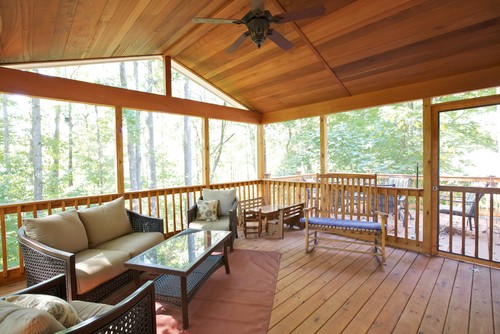 With three walls entirely open to the outdoor world but for the invisible screen to keep out insects, this sanctuary combines all the comforts of indoor life with all the tranquil beauty of nature. Its fan and lighting elements make it easy to enjoy even during hot summer months.
Main Living Area
Inside, we enter into an open-floor plan with a kitchen, dining room, and living room. Though G-shaped, the kitchen is creatively designed to house plenty of storage while keeping visual lines open via an island peninsula with barstool seating that welcomes adjacent rooms in. The Arts and Crafts-style kitchen cabinets evince visible quality, while the stainless steel appliances add a modern touch.
The kitchen opens into an informal dining area with a custom-made, built-in, L-shaped booth below a handmade, stain-glass window. The back of this booth houses custom shelves that join a full wall of custom cabinetry, making you feel like you're walking into a well-curated library with all the comforts of home, including a fireplace set in a high wall of tile.
Master Bathroom
The remodeled master bathroom includes a pleasingly-symmetrical and generously-proportioned walk-in shower. The tile shower room includes a large soaker tub so that the entire bathing area remains resistant to moisture and easy to clean. Opposite the shower and bath stand two independent, stately vanities with sinks and mirrors that increase the home's aura of sophisticated luxury.
Hall Bathroom
The hall bathroom, though smaller, maintains this ambiance through an elegantly-designed vanity with an elevated basin. All lines, including the large, engineered hardwood flooring, are square, symmetrical, and minimalistic, which makes the space feel much larger than it is. Every element of this remodel is thoughtfully designed and intentionally executed to create a cohesive stability.