How are Atlanta's top designers remodeling their kitchens? It's helpful to track trends as you prepare for your own remodel, but it's equally rewarding to scout innovative designs that are likely to blossom into trends. Today, let's take a tour of the top 10 cutting-edge kitchen designs in Atlanta, GA.
Kitchen #1: Kitchen Renovation in Midtown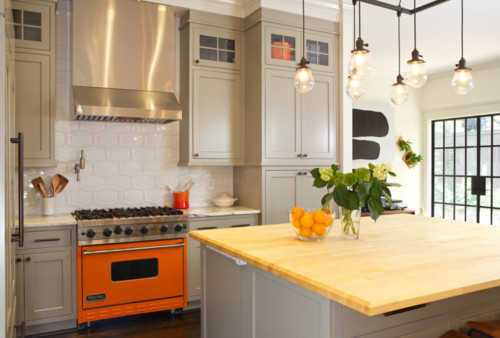 This charismatic kitchen remodel is bursting with vibrancy without being overbearing. The light grays and whites that set the stage for a relaxed kitchen ambiance are balanced by the bright orange bursts of color in the industrial oven, accent pieces, and wall hangings. The large hexagonal tiles behind the stove top add extra dimension.
Kitchen #2: Nurtured by Nature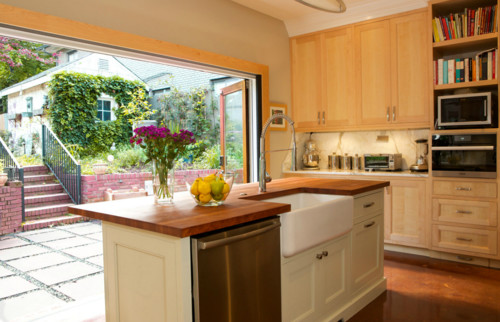 Do you love the outdoors? Then you may want to take notes on this kitchen's biophilic design that invites nature into everyday living. The wide French doors provide direct access to an outdoor patio while the warm wooden cabinets, butcher block countertops, and burnt sienna, high-gloss epoxy floors echo natural earth tones.
Kitchen #3: Brass is Back
Although compromised functionality necessitated this kitchen renovation, the result is nothing short of a compositional masterpiece. The perfectly symmetrical placement of the island, barstools, and chandeliers is balanced by the slight asymmetry of the cabinetry and windows in the wall behind. The drawer and door pulls join the barstool legs and white oak floors in reiterating the sophisticated brass lighting accents.
Kitchen #4: Apposite Opposites
We've already taken a tour together of this Decatur Tudor home, but we haven't spent much time in its kitchen. Perhaps its most notable element is its tightly harmonized dualism of tone and time. The rich, dark, warm woods are set against clean whites while the traditional-style sink and wood paneling are contrasted with modern steel lighting and appliances. Yet all opposites are harmoniously orchestrated.
Kitchen #5: Airy and Contemporary
Our fifth kitchen is sure to become a contemporary classic. It's fully-saturated, high-sheen pinks and blues are supported by the simple, sheer lines of the wood flooring, steel appliances, windows, walls, and flat-faced cabinetry. The near absence of upper cabinetry shelving contributes to the overall open and airy feel.
Why Stop at 5?
Lest you think that there are only five "must-see" kitchens in the entire Atlanta area, we'd like to highlight five additional kitchens that will inspire your plans for creating a dream kitchen in your Atlanta-area home.
Kitchen #6: Transitional Kitchen Renovation in Atlanta
In this transitional kitchen in Atlanta, our team installed custom blue inset cabinetry and added a reclaimed heart pine countertop bar with seating. We also incorporated a grey herringbone patterned backsplash, modern hardware, engineered Quartz countertops, and period sconces over the seated counter and sink.


Although we didn't enlarge the actual layout, the kitchen felt much larger thanks to the extension of the cabinets down the room. We also changed out the original 6'-8" french doors to a pair of 8' french doors. Our team finished off the kitchen by installing a custom bar for entertaining and all new appliances including a Wolf range and built-in refrigerator.
Kitchen #7: Stunning Gourmet Kitchen Remodel in Atlanta
If you've ever wondered whether traditional elements and modern style can really work together, one look at this stunning gourmet kitchen remodel in Atlanta should answer the question.
The modern island (with blue accents that are echoed throughout the home) and modern lights play well with the old brick accents and the beautiful hardwood flooring. In addition to stunning good looks, this kitchen is highly functional as well. We were able to utilize every inch of available space by incorporating wall-to-wall cabinetry with open shelving, and glass-front cabinets. Click here for a closer look at other features, including the white subway tile, modern appliances, mirrored upper cabinets.
Kitchen #8: Two Time Award-winning Kitchen Renovation
This kitchen took Gold in the 2018 OBIE Awards for Kitchen over $50K. We completely transformed this Atlanta-area kitchen into a modern, sophisticated space.
Utilizing traditional white cabinetry and stunning quartz countertops, this kitchen features an elongated island (with large stainless-steel farmhouse sink and extended sprayer) for additional prep space and storage.
The open-concept design features additional seating and a bar area for entertaining. The glass pendant lighting adds a touch of elegance and accentuates the island. The result is a light and bright, open kitchen that's a joy to be in—whether you're a guest or the homeowner preparing a meal.
Kitchen #9: Home Renovation in Decatur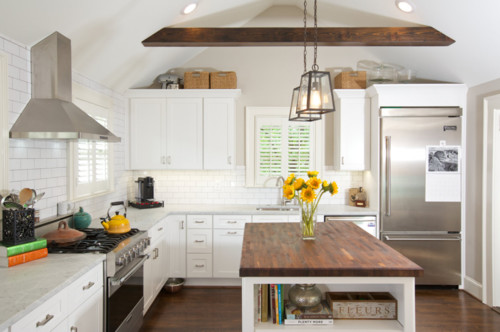 If you're looking for a kitchen that's bright with warm wood accents, you may enjoy this kitchen that was part of a recent home renovation in Decatur. We were able to tie in the wooden beams in the ceiling and the hardwood flooring and then add another layer of wood with the working countertop of the kitchen island. The white subway tile walls, white cabinets, and white shutters all contribute to make this a bright and cheerful kitchen. Built-in open shelving on the kitchen island provide additional storage space for cookbooks or whatever else you may need to store.
Kitchen #10: Elegant Atlanta Kitchen Remodel
Traditional and modern elements work together to create this elegant Atlanta kitchen. This beautiful kitchen with great view to the back yard is more than elegant. It's also extremely practical with plenty of room for both meal preparation and entertaining. One feature that enables both of those things is the elongated island with a waterfall countertop.
Unique open shelving with shelving that complements the hardwood flooring ties the space together. The light grey cabinets on the island stand in soft contrast to the rest of the white kitchen cabinets. Click here for a closer look—including a look at the wide, pull-out drawers in the bottom cabinets.
Updated from the original Oct 4, 2017 post