When planning for you Atlanta kitchen remodel, it's easy to spend less time considering details. Some of these details, however, can significantly impact your daily life, and perhaps that's the truest of your kitchen sink design. Below, we've detailed the pros and cons of some of the most popular models.
Apron-Front Sinks
Apron-front sinks, also known as farmhouse sinks, have recently enjoyed a surge in popularity. Their rustic appeal adds charm to any kitchen, and their deep, wide basins are highly functional.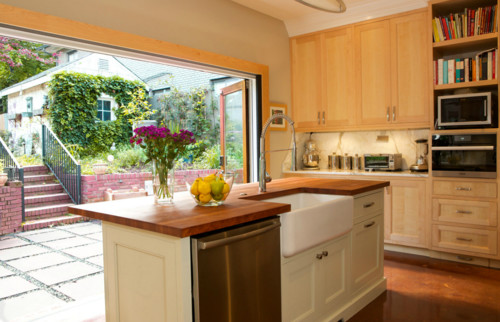 These sinks are often made of porcelain and may have straight of beveled aprons, but they are also sometimes made of innovative materials like bamboo. Because these sinks are statement pieces and their long-term appeal on the market has not yet been proven, homeowners would do well only to select this sink if it matches their home's style.
Under-Mount Sinks
Under-mount sinks have also become increasingly popular. This style makes countertop cleaning easy since crumbs may be swept directly into the sink basin. Its look is smooth and sleek. It's important to remember, however, that the place where the sink and countertop meet requires routine cleaning. If you do purchase an under-mount sink, it's advisable to select a standard size so that replacement is easier.
Self-Rimming Sinks
Self-rimming sinks are easy to install and replace and are less expensive and less susceptible to leaks than under-mount sinks. While not as invisible as under-mounts, they tend to match most countertops.
They do not, however, make it easy to clean countertops, and for this reason, the joint between the countertop and sink can easily become dirty and even moldy if sealed improperly.
Integrated Sinks
Integrated sinks are designed so that the basin and countertop material are the same. They are sleek and minimalistic and are the easiest sink style to clean and install. If you ever change your mind on the type of sink you want, however, replacement is extremely expensive since you'll need to change your countertops as well.
Prep Sinks
We said earlier that sinks are perhaps the hardest-working feature in your kitchen. They're so hard-working, in fact, that avid chefs (and homeowners with wet bars or coffee stations) will often install a second, smaller sink.
Having a prep sink handy also helps when multiple chefs are in the kitchen or when you want to use the sink while someone is doing dishes.
Other Sink Considerations
Beyond the style of sink you select, you'll also want to consider its dimensions, placement, and material. For instance, will you want a sink with one basin or two? One basin allows you to easily wash and soak oversized dishes, but two basins allow you to separate tasks. Will you want a deep or shallow sink? Deep sinks again give your dishes more room, but bending over to reach them could cause back pain.
You'll also want to position your sink thoughtfully. Consider your kitchen layout and decide whether this means placing it in the middle of a countertop, an island, or even a corner. For materials, will you want standard stainless steel, composite granite, fireclay, cast iron, natural stone, quartz, solid surface, or copper? Research the benefits and drawbacks of each material before finalizing your own kitchen sink design choice.