You may have heard it said that the devil is in the details. If this is true, then so is the inverse: while details are where slipshod workmanship shows up, they're also where meticulous craftsmanship shines. Let's take a look at some of our diverse custom carpentry projects in Atlanta.
Kitchen Cabinetry
In this traditional Arts and Crafts kitchen, we created custom cabinets with a rich, high grain and carefully constructed the faces of each with meticulously executed uniformity, introducing interest through detailed end panels and flutes in the kickboards and doors.
What kinds of custom carpentry can you use to create the kitchen of your dreams? There's no reason your kitchen cabinets have to look like everyone else's'. You can add depth and interest to your cabinets with customized end panels. Or you can get bold with the colors you choose. Even the materials you chose for cabinets and countertops can allow you to express your creativity. And, of course, the specific design and quality of the cabinets you install can make a huge difference in the way your kitchen looks—and in its functionality. Here's a post to goes into more dept (including images) of these features.
Kitchen Cabinet Faces
The first decision you'll make establishes the overall tone of your space: what style do you want for your cabinet face? Do you want the classy and traditional shaker door, the slightly sleeker flat door, or the ultra-modern inset door?
Each style has its place. Some home owners even combine two or more door types, but if you opt to do the same, do so carefully. You'll want to select one style to use predominantly as the design basis for the rest of the room and only use secondary or tertiary types sparingly and in appropriately designated areas.
Cabinet Types
Now that you've selected your favorite cabinet face, it's time to consider the types of cabinets you will install. While doors and drawers are the most traditionally utilized options, remember that you don't have to stick strictly to them.
Add interest and user efficiency by incorporating slide-out shelves, roll-up and pull-up panels, and any other ingenious hardware devices. Consider complementing these higher-tech options with more minimalistic selections like glass cabinets and open shelving units where you can display elegant glass and table ware.
Palette Potentials
With the rising popularity of minimalistic and transitional styles, many home owners have gravitated toward simple palettes composed of neutral colors, relying on textures to introduce interest. This look is as popular as it is because it is truly beautiful, but don't forget to entertain other options.
The kitchen above, for example, plays with all three primary colors and makes them work together by using a pure white as the base color for the cabinets and walls and a neutral brown for the floor. Play around with paints and stains until you find a look you like.
Making it Match
Remember, you don't have to choose only one style or color. Be adventurous by mixing your playful palette with multiple materials like wood, steel, tile, brick, etc. As you explore new options, however, do be sure that they work in a united scheme both within the kitchen itself and within your house as a whole.
For an adventuresome yet coordinated design, keep in mind that the match is often made marvelous by finding the right finishes like door handles and knobs. So do make sure you like your larger pieces like your cabinets since they will set your overall tone, but pay special attention to the finishes you select for your kitchen remodeling project in Atlanta, GA.
Built-in Cabinetry
We also craft built-in cabinetry in other areas of homes, be they sophisticated family room closets to store books and instruments, playful recessed storage cabinets in kids' rooms, or hidden bookshelf doors that swing forward to admit passage.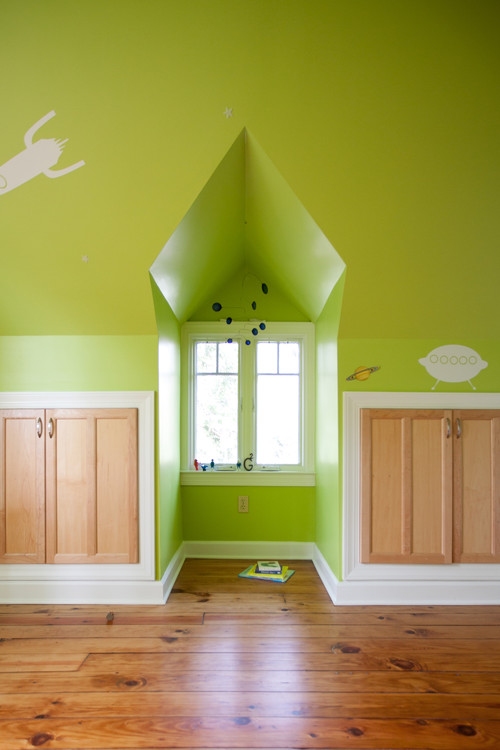 Wall Paneling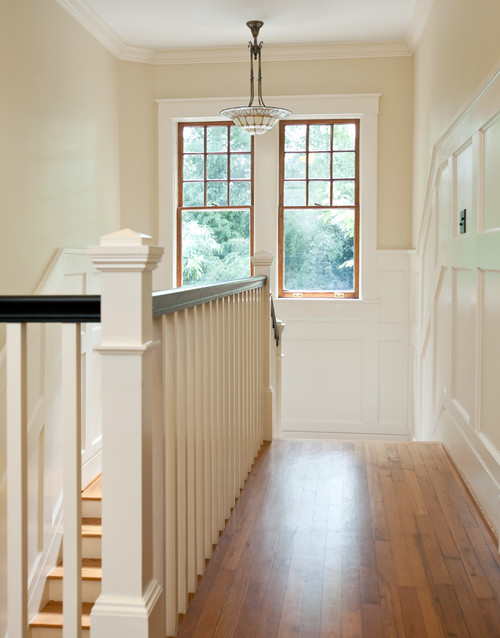 While the cabinets shown above all serve as both beautiful and functional pieces, sometimes woodwork is purely decorative, as in this staircase paneling and banister and this old-world dining room with elaborate paneling, crown molding, and window trim work.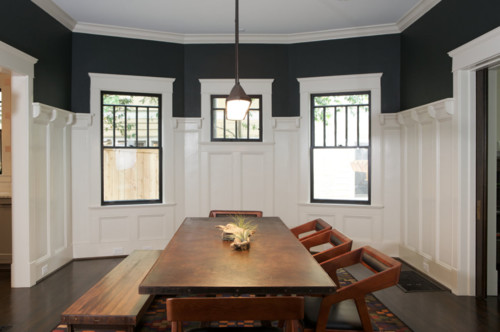 Mantel Pieces
If you recognize this mantel piece, it's because it fits flawlessly with our Arts and Crafts kitchen cabinets shown above. Its decorative corbels, inset tile, and carefully constructed paneling work together to create a piece that is at once simple and beautiful. For contrast, here's our more contemporary take on a mantel framing for this modern fireplace.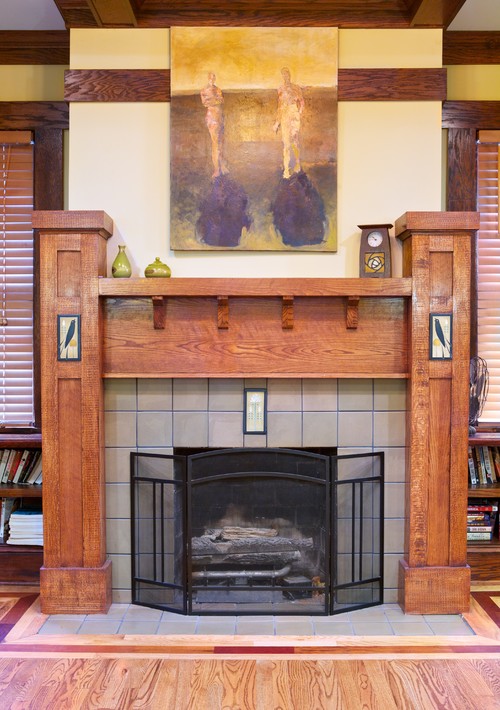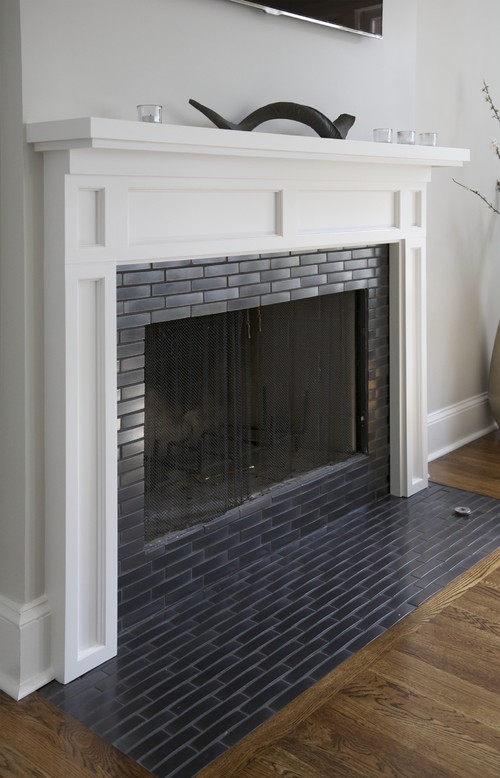 Extras
To complete our tour through our traditional Arts and Crafts remodel, here's the custom carpentry display on the staircase. It features intricate railing, lighted banisters, and nooks that house pendant lights.
Switching again to a more contemporary home, we find a sleek and precisely plumb wine cellar that any sommelier would be proud to call their own.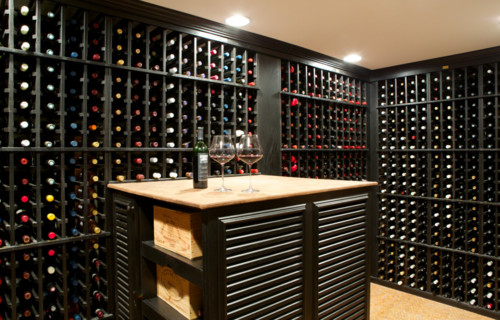 Finally, delicate woodwork isn't reserved only for a home's interior. In this remodel of the oldest house in Cobb County, for example, we painstakingly crafted each decorative corbel and railing to pay homage to the home's historic grandeur.
No matter the home and no matter the project, we enjoy finding new places to apply our expertise with custom carpentry in Atlanta, and we look forward to helping you realize your detailed home design goals.
And More!
Attention to detail is about more than just "getting things right." Your home should be a place where you're comfortable. A big part of that is creating a space that reflects your sense of style. Here's a post that looks at how we helped one family keep the historic charm of their home in a way that made them feel right at home.
If you own an older—or even a historic—home in the Atlanta area and want that house to reflect the timeless beauty and sense of solid quality it possessed when it was built, you can't do that with cabinetry from the local big box store. You really need someone who appreciates and understands the building and carpentry of the time when your home was built. At Copper Sky, we believe old houses are worth saving. And we believe that the right way to do that is with a strong eye for traditional design elements, a thoughtful layout, meticulous planning and uncompromising attention to detail. That's why we're so selective in choosing the members of our award-winning team.
Do You Need a Remodel or a Renovation?
One of the challenges of remodeling historic homes is that there's often more involved than simply a "freshening up" or a "facelift" required. There are times when the very features and characteristics that attracted you to the house in the first place need to be restored to their original beauty and functionality. You don't simply want to replace all older features with new ones. Here's a post that looks at 9 older features to preserve in an older home. These are the kinds of things (flooring, trim work, front doors, hardware, and more) that give your home the character that you love.
That kind of remodeling, renovation, and restoration requires a commitment to a higher level of craftsmanship. Not every remodeler understands or embraces this approach. Frankly, we love the beauty and charm of Atlanta's historic homes. But we also know that exceptional restoration and remodeling results don't just happen. That's why our mission is to bring craftsmanship back to home remodeling in Atlanta. And it's also why the custom carpentry we do in historic Atlanta homes isn't just "unique." It also respects and reflects what made you home great in the first place.