When it comes to kitchen design and remodeling, perhaps a few of us have already planned exactly what kind of custom cabinets we want. But for most us, we don't necessarily know what we like until we see it, or else we're unsure we can pull off an appealing yet unique style with any measure of success.
If you fall into this second camp, the best thing to do is to look at photos of successfully remodeled kitchens. We've put together a few pictures of beautiful kitchen cabinets to inspire you to approach your own renovation ideation with bold creativity.
Add Design Depth to End Panels
We've all heard that it's the finishes that bring the magic to a remodel, and this is certainly true in the kitchen. In our coastal-inspired Atlanta renovation, we started by installing some unique, quarter-sawn, inset cabinets. We paid special attention to finishing them with fine detail, adding paneled craftsmanship to the exposed ends that wrap around the peninsula barstool area.
Cooper Design Builders, a Portland remodeling company, offers a second take on this same idea, designating one end of their island for shallow, open shelving to display unique dishes, a grooved wine rack, and classy cookbooks.
Don't Be Afraid of Color
Can color be overdone? Sure. But more often than not, home owners opt only for the classic beauty of safe neutrals, which definitely have their place, not necessarily because they prefer them exclusively, but because they're timid about incorporating statement colors.
This hesitation is certainly understandable. Colors in the kitchen can elicit a "love it or hate it" response, but if you're working closely with an experienced designer to incorporate your favorite palette, you'll end up not only loving it, but also empowered for the next project.
For examples of color done right, take a look at our playful and expressive incorporation of yellows, blues, and reds into our remodel of Cobb County's oldest home and our completely different take on kitchen cabinet color in our elegant and minimalistic traditional Atlanta kitchen.
Get Creative with Your Materials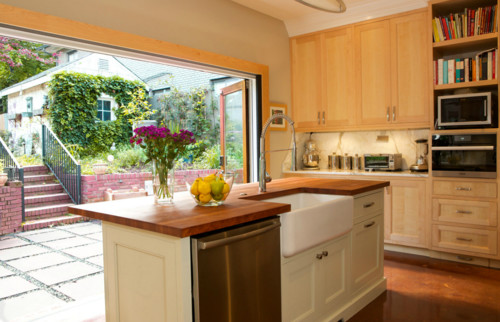 Most hardwood cabinets come in a limited variety of styles—shaker, flat, or inset—and are made from maple, oak, cherry, birch, hickory, and knotty pine. But if you're getting custom cabinets, it's worth entertaining ideas on incorporating creative styles and materials into your cabinetry.
For instance this company providing high-end kitchen remodeling in Chicago updated this kitchen with heavier oak framing to outline kitchen drawers and doors in well-balanced Japanese box shapes while placing a thin white oak curtain behind. In some places, these cabinets are also backlit to create special allure.
More Kitchen Cabinet Design Ideas
The more ideas you can entertain, the better idea you'll have of what you want in your Atlanta, GA, kitchen remodel. So take a look at our kitchen remodel photo gallery and our Houzz page, and start saving photos that draw your eye so you can extrapolate ideas for your own cabinets.