Our last two blog posts have featured our gold and silver winners for the OBIE Awards category of "Best Bathroom Over $25k." We didn't just win awards for best bathroom, however. We also took gold for 2017's best home addition in Atlanta, GA. Here's that home. Today, we'll take you on a tour.
(The 2017 OBIE Awards program features the best home remodeling and building achievements in the greater Atlanta area in the past year. Be sure to view all of our winning entries in their online award booklet.)
The Scope Our Addition
This Midtown Atlanta home owner needed more space. We accommodated this request by adding an entirely new, two-story wing to the back of the home that fits flawlessly into the original design. We added a kitchen and mudroom on the main floor and an office and master bathroom on the second floor.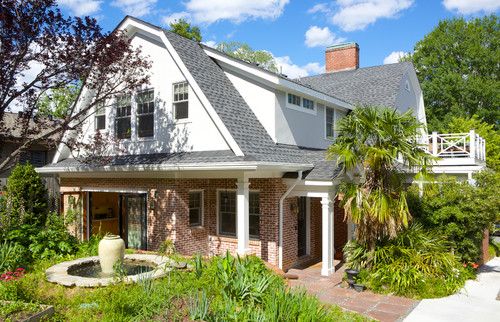 The Kitchen
The kitchen is impressively open, both in its interior design—which includes several entrances and is centered around an island surrounded by ample floor space—and also in its four-paneled glass doors that open into the backyard. The material selection itself reflects the outdoor world the room embraces.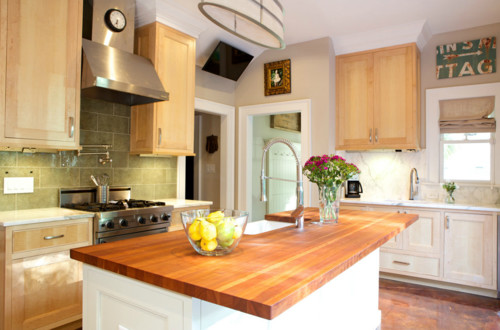 The natural wood of the cabinetry, the butcher block island countertop, and the unique, earth-toned epoxy flooring all suggest a pure marriage of man-made structures with the natural environment.
The Office
The office addition situated directly above the kitchen preserves this same charm of biophilic design. A row of windows, combined with high ceilings and light neutral wall paints, welcome in and make the most of the sunlight. Rich, red hardwood floors and an exposed hardwood beam above provide the peaceful aura that is unique to the outside world.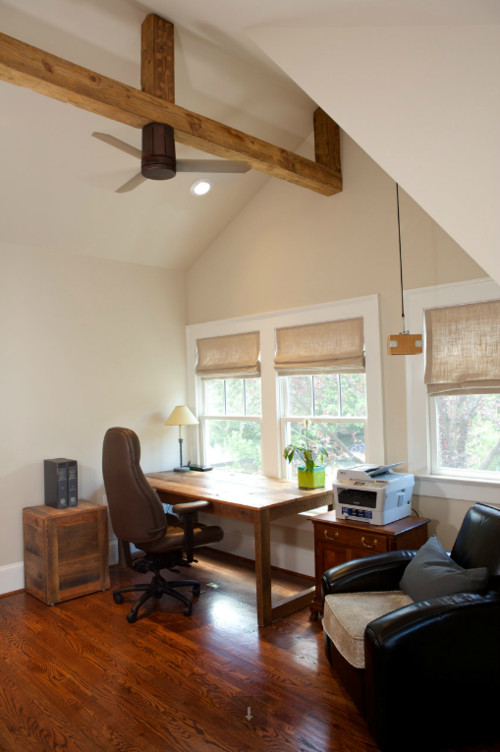 [Read More: Creating the Perfect Home Office]
The Bathroom
Also upstairs, the master bathroom continues this environmental embrace in its own way. Like the kitchen and office, it emphasizes natural light, but since its privacy constraints leave less room for windows, it maximizes the natural light it does have through the use of large mirrors, transparent glass, reflective tiles, and light colors.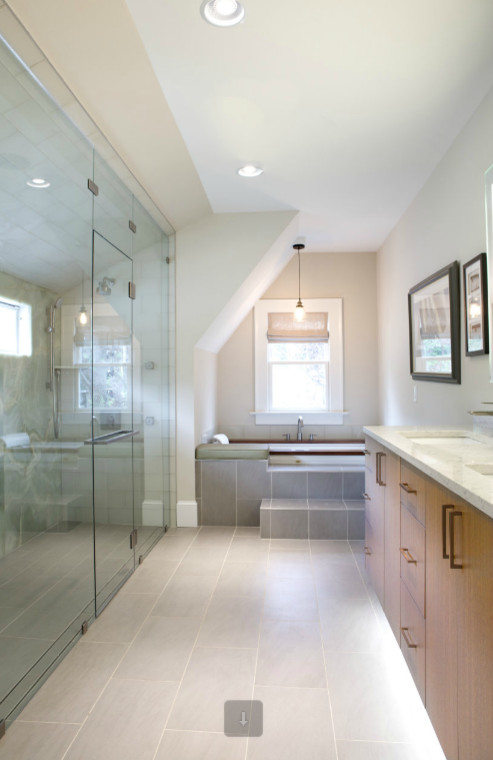 The layout is again open, and visual lines are uninterrupted. Like the rest of this home addition in Atlanta, the bathroom unites all the comforts of the indoors with all the serenity of the outdoors.